BYOD is as entrenched (and complicated) as ever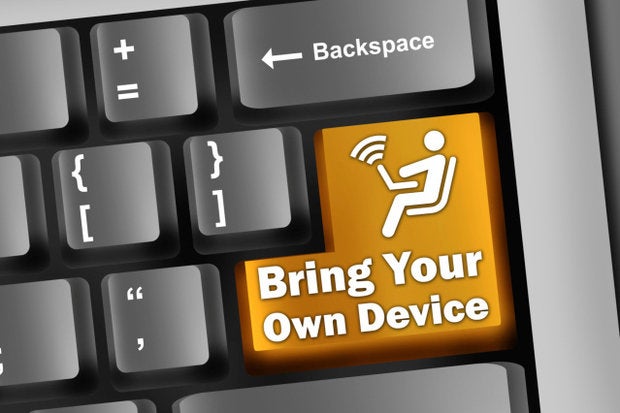 The bring-your-own-device (BYOD) trend has been around for years in U.S. workplaces and even though it's become a fixture at many companies, some IT shops are still coming to grips with it.
In hard numbers, the prevalence of BYOD in the workplace is difficult to measure. Researchers offer a wide variety of statistics.
Research firm Strategy Analytics, for example, said three-quarters of business smartphones and tablets shipped in the second quarter in North America were slated to wind up in the workplace -- either bought by businesses outright for their workers or by people who planned to use them in the office.
However, another research firm, J. Gold Associates, found in its latest annual survey of large businesses that just 15% of those businesses had a majority of their employees use their own devices for work purposes.
Such wide variations likely occur because some companies reimburse workers for buying their own smartphone or tablet to use at work, and even pay part or all of a monthly wireless service charge. Other companies expect a BYOD worker to pay for it all, while offering back-end support for company apps used on the devices.
At the heart of the BYOD trend is the distinction between "personally liable" devices -- those brought in from home by workers -- and "corporate liable" hardware, where a company owns a smartphone or tablet provided for a worker's use, with the company usually paying all costs. Corporate liable practices have evolved in recent years to include a choose-your-own-device (CYOD) model where a business allows workers to select from a list of specified devices for business use, primarily to give IT shops more control over hardware and data.
Further complicating matters: A California court ruling that requires companies to reimburse employees for work-related use of their own personal devices. It remains unclear how far-reaching that decision could be.
"We see BYOD going on a long time, and now CYOD has emerged," Strategy Analytics analyst Phil Hochmuth said in an interview. "BYOD has even leaked into the regulated industries like banks, which is the last bastion."
Banks, facing stiff federal regulations in the U.S., have traditionally relied on a corporate-liable model to better control the specific smartphones or tablets used, as well as the apps running on them. Under that system, workers are usually not permitted to use any personal apps or do any work on the devices outside of work. The main intent is to keep sensitive corporate data from leaking out over personal email or other pathways.
Given that tradition by banks, Hochmuth said it is interesting that J.P. Morgan Chase is apparently dropping support for BlackBerry devices and mandating that some employees pay for their own devices, BlackBerry or otherwise. The shift would save the bank tens of millions of dollars.