18 companies that suck at customer service

Credit: Zach via Flickr
Customer experience can make or break a company. Whether customer service is very good or very bad, it gets people's attention, creates customer loyalty and affects a company's bottom line
Forrester Research launched the U.S. Customer Experience Index as an annual report in 2007. This year, for the first time, the company published it twice, and from now on it will release two reports per year. The company looked at 299 brands in 18 industries.
"The impetus was that companies were increasingly looking to customer experience as a way to set themselves apart and how important it is in terms of customer loyalty," says Megan Burns, an analyst at Forrester and the report's principle author. "As companies decided to focus on this, they wanted to measure themselves in some way. The problem is there's a disconnect between selling and marketing and what's actually happening."
According to Forrester, analyzing and tracking customer buying behavior to ensure that they keep coming back is only the beginning. Customer experience improvements also drive revenue, ensure customer loyalty and benefit investors.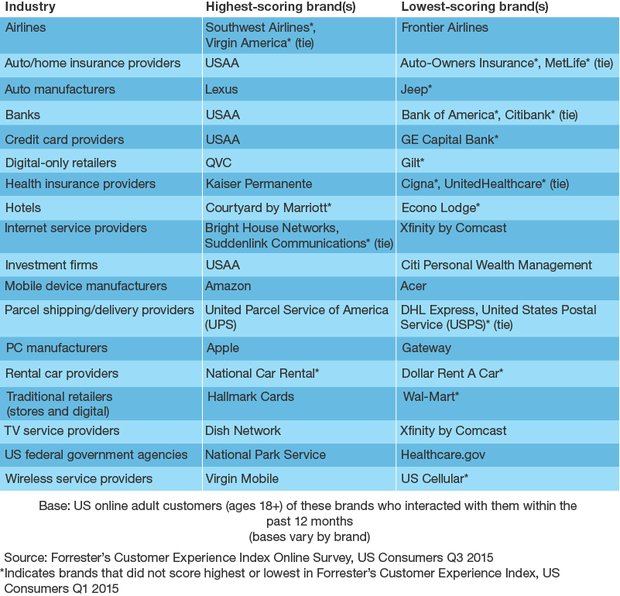 Click on image to enlarge. Credit: Forrester Research
The edition published in May presents the example of AT&T, which grew its U-verse service 28 percent after improvements in the TV and Internet service provider product experiences. Forrester also found that customer experience "explains anywhere from 47 percent of the variation in loyalty for investment firms on the low end to 76 percent of that variation for car rental companies." It also states that Watermark Consulting has analyzed differences in stock performance between customer experience "leaders and laggards," accounting for 80 percentage points of difference, and a gap in the S&P 500 Index by 26 percentage points.
According to Burns, "The audience is broader than just CRM executives. It's a growing population of people. In addition to the vice president of customer experience and CMO, increasingly CEOs have cited the data on investor calls. Sprint, for example, has done this. They say, 'The way we'll compete is on customer experience, and we need a benchmark to measure that.' Even COOs, interestingly, are part of the audience, because they're operationalizing customer experience."
"Overall, and we have 25 different drivers per industry. Things like how quickly did they solve a problem? The report publishes a synopsis, the best of the best. Now, companies don't aspire to be the best in their industry, but to be the best in any industry. Regardless of what industry they're in, they want to benchmark against Amazon or Zappos."