PayPal rebrands, touting mobile payment abilities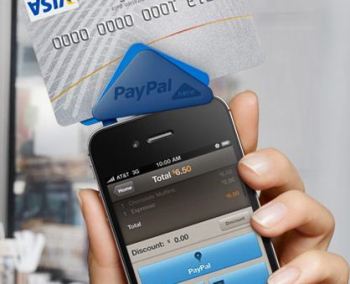 PayPal has unveiled a new global branding campaign designed to put greater focus on its ability to let people make payments for goods and services anywhere and anytime.
The rebranding comes as the company has grown to have some148 million active PayPal accounts and has taken on a broad-ranging approach to new mobile payment technologies. The moves have led some analysts to conclude that PayPal faces a promising 2014 and beyond.
Yet — as with many technologies — Apple could spoil all that potential.
"PayPal is already successful in the payments business and has the best chance of figuring out a convenient mobile payment model that consumers and merchants actually want to use," said Avivah Litan, an analyst at Gartner.
Jordan McKee, an analyst at Yankee Group, called PayPay "forward thinking" with promising leadership from CEO David Marcus. Citing its 148 million active customers, McKee said "no other mobile wallet player can boast those numbers or even come close."
A Yankee Group survey shows that 15% of U.S. mobile device owners have used a PayPal app recently, which trumps any other mobile wallet by fourfold.
PayPal already puts a strong emphasis on mobile payments, made possible with the PayPal App for consumers that can be downloaded for iOS, Android and Windows Phone. About 1.9 million merchants worldwide allow use of the app in their stores, where customers activate a PayPal account via the mobile app over a wireless connection. The account is then verified by a clerk through an in-store terminal.
With PayPal Here, the company offers an outreach to help businesses — small and large — accept payments using a mobile device and a small triangular magnetic credit card reader that attaches to the mobile device. The technology isn't much different from the card reader from Square.
PayPal has also announced plans to help merchants accept payments with a barcode shown on a phone, or from a customer inputing a 4-digit PIN in a payment terminal in the store.
The branding campaign announced Wednesday is PayPal's first since 2007. It will rely on the slogan, "Powering the People Economy," in print, digital and TV advertisements. The first TV spots will be shown in the U.S., Germany, the U.K. and Australia.
A new PayPal logo incorporates the double "P" of the previous logo, but now overlaps the two P's and uses more vibrant blue colors and a slightly different font. A YouTube video describes the branding update.
Earlier this week, PayPal parent eBay disclosed in its first quarter earnings report that PayPal has 148 million active accounts, up 16% from the previous quarter. While impressive, the total lags far behind the 800 million Apple iTunes accounts that Apple could potentially use for payments with its Passport app or other means.