More CIOs report to the CEO, underscoring IT's rising importance
Thirty-four percent of CIOs surveyed report directly to their CEO, further validating how IT has become increasingly strategic as businesses seek to generate more money using digital technologies, according to the new 2016 Harvey Nash/KPMG CIO survey. However, 65 percent of CIOs say the lack of technical talent -- particularly for big data analytics -- is hampering their efforts to keep up with the pace of change.
Marc Snyder, who manages KPMG's CIO advisory global center of excellence, says the number of CIOs reporting to CEOs was a 10 percent hike from the 2015 study, suggesting that more CEOs view their IT leaders are key business partners.
Snyder says that 21 percent of respondents say their CEOs are formulating digital strategies but expect CIOs to choreograph the necessary technology and business process changes. As a result, CIOs are focusing more on innovation and less on the operational efforts. CIOs are steering employees through new ways of working, delivering technologies that enable better customer engagement. And as they direct organizational changes they are spending more time getting to know their customers. Four out of 10 respondents indicate they spend at least one day a week on something other than IT.
"CIOs are no longer focused solely on delivering the right technology to enable the enterprise, rather they are now the key agent of change for moving enterprise strategy forward," says Snyder. The research included participation from 3,352 CIOs worldwide between December and April.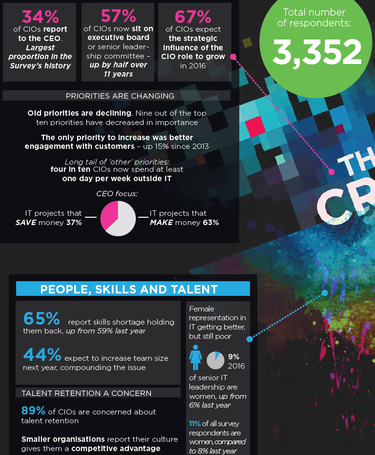 Results from a survey of 3,352 CIOs. (Click for larger image.)
With great power comes great challenges
The CIO may be enjoying elevated status but the role's challenges have also increased. As they attempt to execute on the digital strategy, CIOs are starving for talent, particularly for professionals who can glean insights from large volumes of data, as well as employees who can cultivate digital capabilities and protect corporate assets from hackers. Forty-four percent of those surveyed said they planned to bolster their IT staff in 2016.
At 39 percent, data analytics is the most in-demand skill for the second consecutive year, followed by project management at 32 percent, business analysis at 28 percent and cybersecurity at 27 percent. Nearly a third of those surveyed reported that they had to respond to a major security incident in the last two years. They cited organized cybercrime at the top of this list of attacks, followed by amateur hackers came and malicious insiders. Only 22 percent of CIOs said they "feel confident" their organization is very well-prepared to identify and respond to cyberattacks.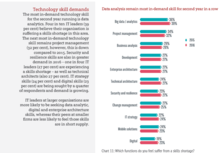 What tech skills are in most demand. (Click for larger image.)