Samsung Pay now in the Google Play Store for select devices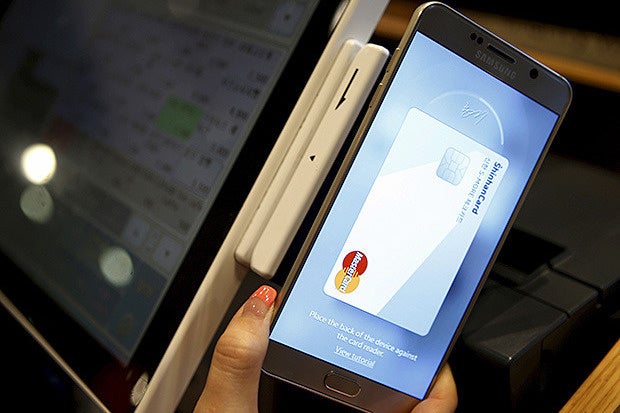 An employee demonstrates a Samsung Pay, Samsung's new mobile payment system at a shop in Seoul, South Korea, September 4, 2015. Credit: REUTERS/Kim Hong-Ji
Verizon subscribers can finally get their hands on the the dark magic of mobile payments known as Samsung Pay.
Head to the Play Store and grab the Samsung Pay app if you have a Galaxy S6, S6 Edge, S6 Edge+, or Note 5 and want to give it a whirl.
Unlike Android Pay, you can use Samsung's option at just about any payment terminal. That's because it includes Magnetic Secure Transmission (MST) technology, which uses an electromagnetic coil inside the back of the device to emulate a physical card's magnetic stripe. Don't be surprised if you get a few awkward looks from the clerk.
You also can use Samsung Pay with NFC-enabled terminals, just like Android Pay.
The story behind the story: Samsung usually wants a piece of the software action, whether it be in giving Android its own stamp with TouchWiz or offering branded services like Milk Music or Galaxy Apps. Samsung Pay is another tool in that armor, though it could have a tough road against Android Pay. Google and many large banks are pushing Android Pay pretty hard. Plus, Google's option works on any Android phone with an NFC chip.