The 6 things you need to know about Apple's best quarter ever
So is that IBM partnership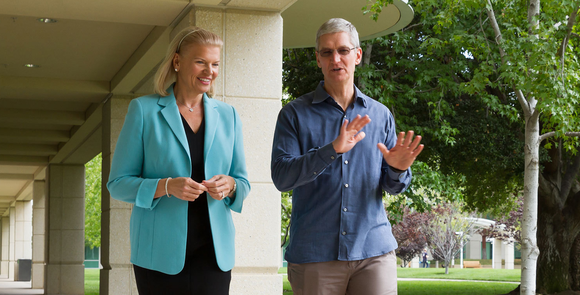 Tim Cook strolls with IBM president, CEO, and chairman Ginni Rometty.
"We don't do a lot of big partnerships, as you probably know. And so when we do one, it is significant, and we really believe in this one and what it can do for customers," Cook explained when asked about Apple's partnership with IBM to create custom applications for enterprise customers such as Miami-Dade County and American Eagle Outfitters.
To really change the way people work, Cook said, they need apps tailored to their exact job, not just general productivity tools like spreadsheets and word processors, which the iPad has in spades. So the partnership with IBM is aimed at helping tailor apps to enterprise customers.
Cook said, "In December, we delivered the first 10 mobile first for iOS apps for banking, retail, insurance, financial services, telecommunications, governments and airlines, making iPhone and iPad even more productive for enterprises by providing app and cloud services with IBM's big data and analytics capabilities. Another 12 apps will be released this quarter, including three new industries: health care, energy and utilities, and industrial products. This will bring us to a total of 22 apps and we're on track to have over 100 by the end of 2015."
iPad sales slid again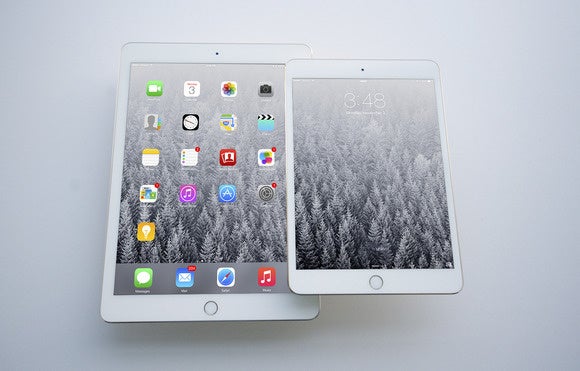 This enterprise push couldn't come at a better time, as iPad sales were soft this quarter at 21.4 million, which is 4.6 million fewer than sold during the same holiday quarter of last year. But Apple remains bullish on the iPad's long-term prospects, with Cook echoing pretty much the same things he said when iPad sales slid last quarter too.
First, iPad is attracting new customers: "I see that the first-time buyer rates are very high. By very high, I mean that if you look at some of the developed markets, like the US, Japan, the UK, you would find that 50 percent of the people are buying an iPad for the first time. If you look in China it's over 70 percent. And so when you have that kind of first-time buyer rates, you don't have a saturated market."
And people really like their iPads. Customer satisfaction surveys are high--one was mentioned as hitting 98 percent. People who like their tablets use them a lot too: "When I look at the usage, the usage is six times our nearest competitor. Usage measured in web browsing is like 71 percent of total tablets. Also the commerce taking place across the iPad is enormous. Essentially over 80 percent of the commerce on tablets is taking place on iPad."